In my next life, I think I would like to come back as a lizard. And I would lounge on a rock in the sun ALL day, every day.
Well, this weekend I did my best lizard impression because it was the first
really
nice weekend of the spring and all I wanted was to be outside enjoying the weather!
Saturday morning my husband and I met the SoCal chapter of our university alumni group in Redondo Beach for an Earth Day collaboration with Heal the Bay.
We picked up trash on the beach and helped to beautify our Southern California coastline with some fellow Ram alumni.
After our completing our service, the group headed over to Ortega 120, a local mexican restaurant with funky decor and delicious food! It was so great to relax on the patio with a cold drink in the hot sunshine.
As we headed back towards Pasadena, we drove by a Yogurtland.
It is always tough for me to pass up Yogurtland but since it was Saturday and, like, 85 degrees out it seemed like a sign from the gods. I mixed guava, taro, mango and coconut yogurt and topped it off with mochi, pineapple and strawberries. It was heavenly!
When we got home we layed out by the pool for awhile and soaked up the last couple hours of sunshine. Once it cooled down a bit we went to the Rose Bowl and took a nice stroll around the loop. That night we visited with an old friend and watched my newly purchased copy of Harry Potter and the Deathly Hallows Part 1. (I am a big Harry Potter fan so I was totally dorky and stoked about it!)
On Sunday it was gorgeous again so we headed up to the Angeles National Forest for a hike. The place was packed but as we split off from the trailhead it became secluded quickly. We hiked along a river that fed into a series of waterfalls. It was so serene and lovely. (Unfortunately my pictures are trapped on a different camera so I'll post them later. For now, enjoy these pictures of Hermit Falls)

At the end of the hike there were some large cliffs that overlooked deep pools. There were some guys jumping off the cliffs and it was terrifying for me just to watch- let alone attempt myself! Besides, the water was FREEZING and I could barely handle wading through the river!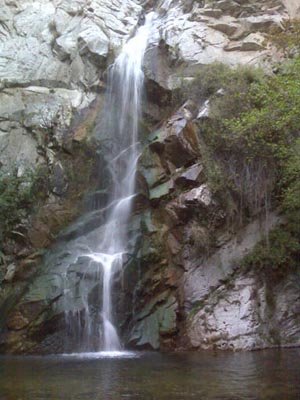 Back at the trailhead, there was live music playing. I never thought I'd see men yodeling in cowboy hats just 20 miles from downtown LA!
Sunday night we wanted to hang onto our last few hours of weekend freedom so we grilled hamburgers/veggie burgers out at our apartment pool/patio common area. We also snacked on some Popchips and had an avocado corn salad on the side.
It was a perfect light meal to complement the mild evening. We capped off the night by relaxing in the hot tub while I listened to my new Adele album.
Overall, it's beginning to feel a lot like summer and I couldn't be loving it more!